Dababy's introduction and early life:
Jonathan Lyndale Kirk was born on December 22, 1991, in Cleveland, Ohio, professionally known as Dababy. He is an American rapper and songwriter. Dababy is the youngest of three sons. In 1999, his family moved to Charlotte, North Carolina. Dababy's father passed away in 2019, and his brother Glenn died from a self-inflicted gunshot wound in 2020.
Dababy went to Vance High School and later for his graduation he attended the University of North Carolina at Greensboro for two years. He said about his college experience, "I didn't even have a major decision at college. I only went to school for my parents". Later he wanted to pursue his music career so he dropped out. There are no certain good records about him during his college days. He got into theft and other activities.
Dababy's age, height & weight:
Dababy's age is 30 years as of 2021. His height is 1.72 m or 5 feet 6 inches, and his weight is 75 kg.
Dababy's personal life:
Dababy has two daughters. His ex-girlfriend MeMe is the mother of his older daughter, and she has a son, Caleb, from a previous relationship, who Dababy refers to as "the oldest of my 3." On the topic of religion, he stated, "I'm blessed. I'm covered by the blood of Christ."
In 2018, two men who were wielding weapons approached Dababy, while he was shopping with his family at a Walmart in Huntersville, North Carolina. An altercation broke out, and one of the men, 19-year-old Jalyn Craig, died of a gunshot wound to the abdomen. Dababy confirmed that he was involved in the shooting and said that security camera footage would show that he acted in self-defense. In June 2019, he was convicted of carrying a concealed firearm and sentenced to a year of unsupervised probation. In early 2020, he was questioned during a robbery investigation in Miami after members of his crew allegedly robbed and beat up a music promoter who owed Dababy $10,000. They reportedly stole $80, a credit card, and an iPhone 7. The Miami authorities arrested Dababy after they discovered that there was a warrant for his arrest in Texas on a battery charge. He was charged with battery in connection with the Miami robbery, but he was released from jail after 48 hours.
Dababy's career: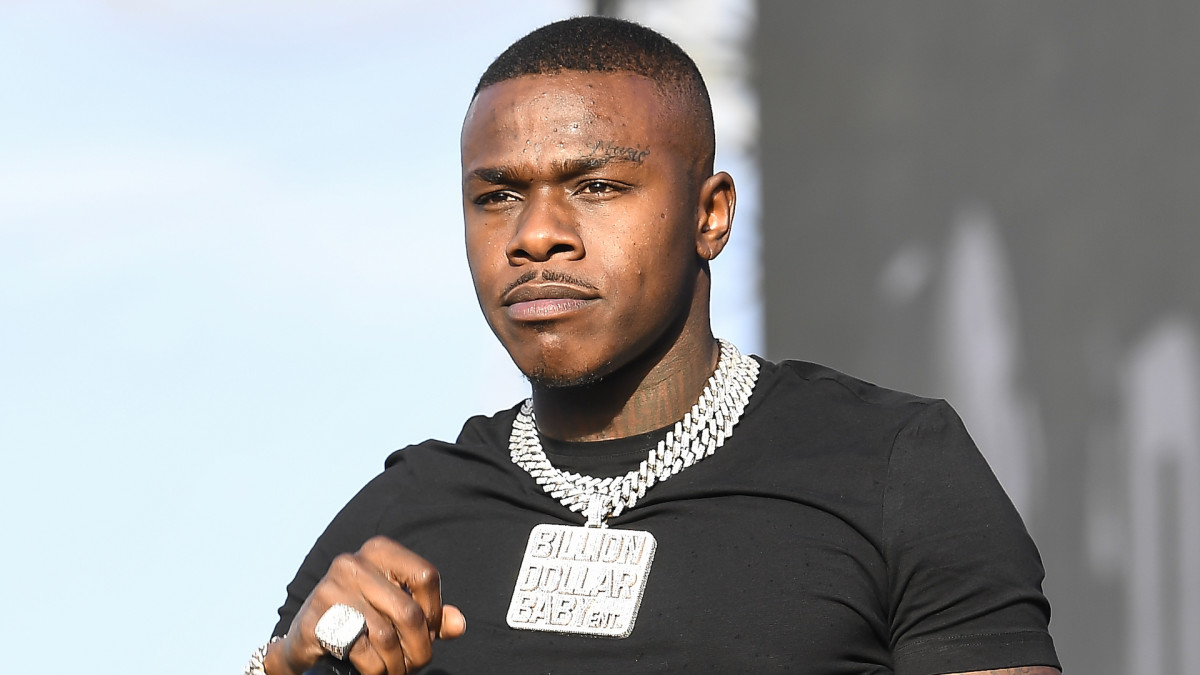 Dababy originally released music under the name Baby Jesus, and his music career began in 2015 when he released the mixtape "Nonfiction." He released two more mixtapes that year, "So Disrespectful" and "The 10 Minute Mixtape," followed by 2016's "God's Work" and "God's Work Resurrected."
In 2017, he released six mixtapes: "Baby Talk," "Baby Talk 2," "Billion Dollar Baby," "Baby Talk 3," "Back On My Baby Jesus Shit," and "Baby Talk 4." Dababy signed with the record label South Coast Music Group after president Arnold Taylor saw him perform in North Carolina clubs. Through South Coast, Dababy entered into a distribution deal with Jay-Z's entertainment company, Roc Nation, to release the 2018 mixtape "Blank Blank." The popularity of that mixtape led to a bidding war among record labels, and Dababy signed a seven-figure deal with Interscope Records in 2019. He released his debut studio album, "Baby on Baby," on March 1, 2019, and it featured the singles "Suge" and "Baby Sitter" (featuring Offset). "Suge" reached Number 7 on the "Billboard" Hot 100 and Number 3 on the Hot R&B/Hip-Hop Songs chart, and it earned Dababy two Grammy nominations.
Dababy's follow-up, "Kirk," was released on September 27, 2019, and the singles "Intro," "Bop," and "Vibez" were all certified Platinum or higher. In 2019, 22 of his singles made it into the "Billboard" Hot 100, more than any other artist had that year.
He released his third studio album, "Blame It on Baby," on April 17, 2020, and the single "Rockstar" topped the charts in a dozen countries and went Double Platinum or higher in the U.S., the U.K., Australia, Canada, and New Zealand. In November 2020, he released the EP "My Brother's Keeper (Long Live G)," a tribute to his late brother, Glenn. Dababy has performed on tracks by numerous artists, including Megan Thee Stallion's "Cash Shit" and "Cry Baby," Lizzo's "Truth Hurts (Dababy Remix)", Gucci Mane's "Richer Than Errybody," Chance the Rapper's "Hot Shower," Camila Cabello's "My Oh My," Dua Lipa's "Levitating," and Kanye West's "Nah Nah Nah (Remix)."
Awards and Nominations:
Dababy has been nominated for six Grammys, Best Rap Song and Best Rap Performance for "Suge" (2020), Best Rap Performance for "BOP" (2021), Best Rap Song, Best Melodic Rap Performance, and Record of the Year for "Rockstar" (2021). He has earned four MTV Video Music Award nominations, Song of Summer for "Suge" (2019) and "Rockstar" (2020), Best Hip-Hop for "BOP on Broadway" (2020), and Artist of the Year (2020).
Dababy won three ASCAP Rhythm & Soul Music Awards in 2020, Top R&B/Hip-Hop Song for "Suge" and Winning R&B/Hip-Hop Songs for "Baby Sitter" and "Cash Shit."
He has received 11 BET Award nominations, winning Best Male Hip Hop Artist in 2020, and he won a BET Hip Hop Award for Best New Hip Hop Artist in 2019. He earned eight "Billboard" Music Award nominations in 2021, with "Rockstar" taking home the prize for Top Rap Song and Top Streaming Song.
Real Estate:
In 2019, Dababy paid $2.3 million for an 11,300 square foot home in the small town of Troutman, North Carolina. The mansion includes five bedrooms, 8 bathrooms, a home theater, a wine cellar, and the nine-acre property features concrete walls, guard towers, and stadium lighting.
Dababy's cars collection:
Dababy currently owns Mercedes Maybach S650, Mercedes Maybach GLS 600, Lamborghinis Huracan Spyder, Lamborghini Aventador Roadster, Lamborghini Urus, Rolls Royce Dawn & Rolls Royce Cullinan.
What is Dababy's net worth in 2021?
As of 2022, Dababy's net worth is estimated to be $3 million.
What is Dababy's net worth in 2022?
Dababy is an American rapper and songwriter. As of 2022, Dababy net worth is $5 million.